UPAYA MENINGKATKAN HASIL BELAJAR SISWA KELAS XI IPA 2 MELALUI METODE INQUIRY PADA MATERI KASUS-KASUS PELANGGARAN HAK ASASI MANUSIA DALAM PERSPEKTIF PANCASILA DI MAN 2 PIDIE JAYA PADA SEMESTER GANJIL TAHUN AJARAN 2021/2022
Abstract
This research aimed at finding out the increase of learning results of XI Science 2 students by inquiry method on materials of human right violation cases in the Pancasila perspective at MAN 2 Pidie Jaya in academic year 2021/2022. This research belonged to classroom action research (CAR) of which the subject were eighteen students with heterogenous ability. It was conducted in three phases; pre-cycle, cycle 1 and cycle 2.  The data collection was by observation, interview, field notes, and evaluation. The finding showed that there was an increase of students' learning results after applying the method. On pre-cycle, the observation mentioned the mean score was 61,94 in which 16.67% students accomplished the Minimum Completeness Criteria (MCC) . On cycle 1, as many 72.22% of the students reached the MCC with a mean score of 74.44. Last, on cycle 2, 94.44% of the students got 80.83 mean scores of MCC. Therefore, it could be concluded that the application of the inquiry method  on the material of human rights violation cases in the perspective of Pancasila could increase the learning result.
References
Arends. dalam Trianto. Mendesain Model Pembelajaran Inovatif-Progresif. Ed ke 4. (hal.41) Jakarta: Kencana. 2010.
Arikunto, Suharsimi. Prosedur Penelitian: Suatu Pendekatan Praktik. Jakarta: Rineka Cipta. 2010.
Dimyati dan Mudjiono, Belajar dan Pembelajaran, Jakarta, Rineka Cipta, 2009.
Donni Juni Priansa. Komunikasi Pemasaran Terpadu Pada Era Media Sosial. Bandung: CV Pustaka Setia. 2017.
E, Mulyasa. Strategi Belajar Mengajar, Bandung: Pustaka Setia, 2008.
Hamalik, Oemar. Proses Belajar Mengajar. Jakarta: PT. Bumi Aksara. 2006.
Mustakim, N., & Riska, R. (2021). Implementation of Cooperatif Learning Model Type Think Pair Share (TPS) to Improve Arabic Vocabulary Mastery of Students Sdn 3 beureunuen. Pedir: Journal of Elementary Education, 1(2), 18-27.
Suprijono, Agus. Cooperative Learning Teori & Aplikasi PAIKEM. Yokyakarta: Pustaka Pelajar. 2013.
Uno, Hamzah B. Model Pembelajaran Menciptakan Proses Belajar Mengajar yang Kreatif dan Efektif. Jakarta: Bumi Aksara. 2007.
Warsita, Bambang. Teknologi Pembelajaran: Landasan &Aplikasinya, Jakarta: Rineka. 2008.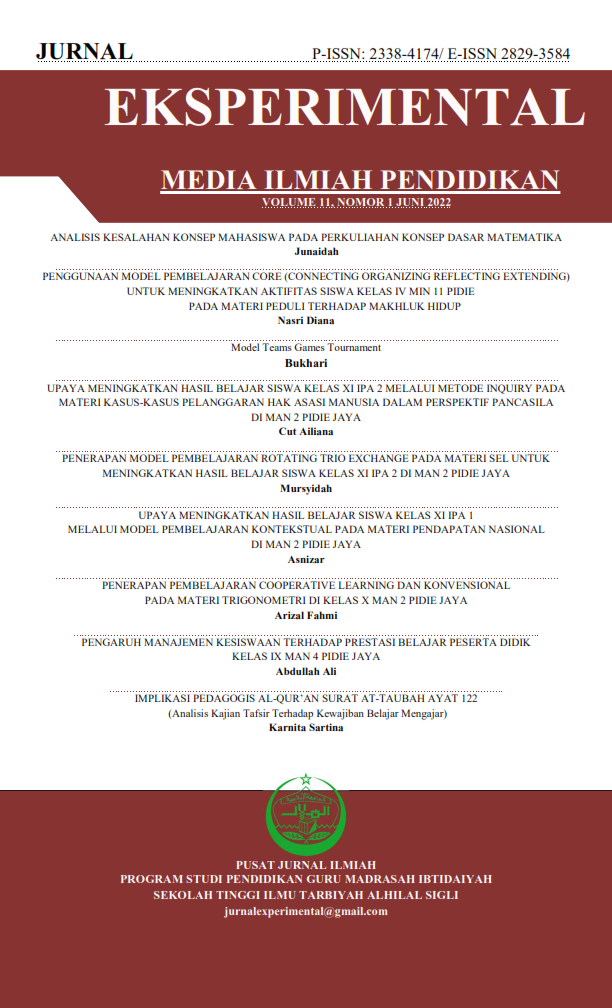 Downloads
License
Copyright (c) 2022 Cut Ailiana
This work is licensed under a Creative Commons Attribution 4.0 International License.