UPAYA MENINGKATKAN HASIL BELAJAR SISWA KELAS XI IPA 1 MELALUI MODEL PEMBELAJARAN KONTEKSTUAL PADA MATERI PENDAPATAN NASIONAL DI MAN 2 PIDIE JAYA PADA SEMESTER GANJIL TAHUN AJARAN 2021/2022
Abstract
This research was to know the increase of learning results about national income material of XI Science 1 students at MAN 2 Pidie Jaya by contextual learning model in the academic year 2021/2022. This was classroom action research and conducted in  three months, September to November 2021. It took place in XI Science 1 of MAN 2 Pidie Jaya. The subject of the research was twenty two students. The study was done in three cycles which each was by planning, acting, observing and reflecting. After the cycle 1 was conducted, it was found that  nine of the students reached 75 up the MCC score and thirteen of them got 75 below the minimum score. It could be concluded that only 40.9% of them accomplished the material. In cycle 2, there was an increasing number of students accomplishing the material and reaching the minimum score. There were twelve or 54.5% of twenty two students. Last, in cycle 3,  as many twenty or 90.9% of them were successfully completed the lesson based on the MCC score while the 9.1% remains did not get it.
References
Arikunto, Suharsimi. Prosedur Penelitian: Suatu Pendekatan Praktik. Jakarta: Rineka Cipta. 2010.
Darsono, Max. Belajar dan Mengajar. Semarang: IKIP Press. 2000.
Djamarah, Saiful Bahri. Psikologi Belajar. Jakarta: Rineka Cipta. 2002.
Khairuddin. Sosiologi Keluarga. Yogjakarta: Liberty. 2007.
Mustakim, N., & Riska, R. (2021). Implementation of Cooperatif Learning Model Type Think Pair Share (TPS) to Improve Arabic Vocabulary Mastery of Students Sdn 3 beureunuen. Pedir: Journal of Elementary Education, 1(2), 18-27.
Nana Sudjana. Dasar-dasar Proses Belajar Mengajar. Bandung: Sinar Baru. 2008.
Nurhadi. Pendekatan Kontekstual. Jakarta: Depdiknas. 2002.
Sanjaya, Wira. Strategi Pembelajaran Berorientasi Standar Proses Pendidikan. Jakarta: Kencana Prenada Media Grup. 2008
Sukmnadinata, Nana Syaodih. Metode Penelitian Pendidikan. Bandung: Remaja Rosdakarya. 2012.
Suprianingrum, J. Strategi Pembelajaran. Jogjakarta: Ar-Ruzz Media. 2013.
Trianto. Model Pembelajaran Terpadu. Jakarta: Bumi Aksara. 2015.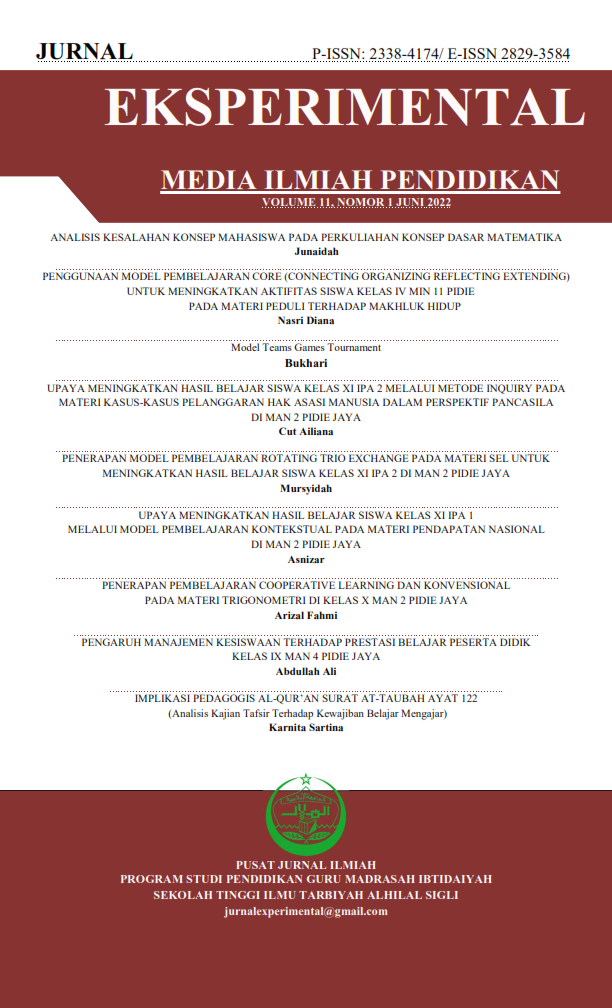 Downloads
License
Copyright (c) 2022 Asnizar
This work is licensed under a Creative Commons Attribution 4.0 International License.