PENERAPAN MODEL PEMBELAJARAN ROTATING TRIO EXCHANGE PADA MATERI SEL UNTUK MENINGKATKAN HASIL BELAJAR SISWA KELAS XI IPA 2 DI MAN 2 PIDIE JAYA PADA SEMESTER GANJIL TAHUN AJARAN 2021/2022
Abstract
The objective of this research was to know the increase of students' learning results on the topic of cells at XI Science 2 at MAN 2 Pidie Jaya. It was conducted by Classroom Action Research from September to November 2021. As many eighteen students of XI Science 2 at MAN 2 Pidie Jaya in academic year 2021/2022 became the subjects of the study. The research was done in the second lesson in three cycles which each was by four steps; Planning, Action, Observing, and Reflecting. Based on the pre-test, it was found that their learning results were under the score of minimum completeness criteria. The first cycle was done on 13 October 2021. The lowest score was 55 and the highest was 80 at the mean score 67.22. The students who completed the material were 22.22% with a score more than 75, while those who obtained less than 75 were 66.67%. The second cycle was on 16 October 2021. The students who reached the score more than 75 were 33.33% while the rest, as many 66.67%, obtained below 75. On 23 October 2021, the last cycle was conducted. There was an increasing number of students who accomplished the material. Of eighteen students, 88.89% succeeded in completing the material with a score more than 75, while 11.11% did not. Therefore, it was concluded that the application of Rotating Trio Exchange could increase students' learning results.
References
Anni, Catarina Tri. Psikologi Belajar. Semarang: Universitas Negeri Semarang Press. 2004.
Arikunto, Suharsimi. Prosedur Penelitian: Suatu Pendekatan Praktik. Jakarta: Rineka Cipta. 2010.
Dimyati dan Mudjiono, Belajar dan Pembelajaran, Jakarta, Rineka Cipta, 2006.
E, Mulyasa. Strategi Belajar Mengajar, Bandung: Pustaka Setia, 2008.
Isjoni, Pembelajaran Kooperatif Meningkatkan Kecerdasan Komunikasi Antar Peserta Didik. Yogjakarta: Pustaka Belajar, 2016.
M. Ngalim Purwanto, Psikologi Pendidikan. Bandung: Remaja Rosda Karya, 2002.
Melvin L Silberman, Active Learning, Bandung: Nusamedia dan Nusantara. 2006.
Mustakim, N., & Riska, R. (2021). Implementation of Cooperatif Learning Model Type Think Pair Share (TPS) to Improve Arabic Vocabulary Mastery of Students Sdn 3 beureunuen. Pedir: Journal of Elementary Education, 1(2), 18-27.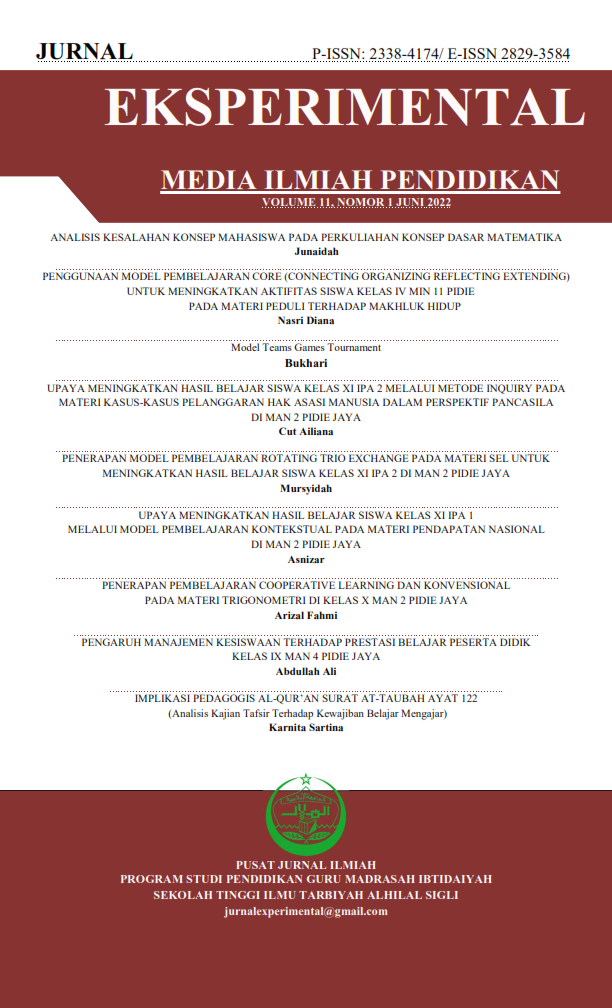 Downloads
License
Copyright (c) 2022 Mursyidah
This work is licensed under a Creative Commons Attribution 4.0 International License.