Pembelajaran Bahasa Arab dalam Kurikulum Dayah Jeumala Amal Pidie Jaya
(Tinjauan Kritis)
Keywords:
Arabic Language Teaching, Curriculum of Dayah Jeumala Amal, Curriculum Review
Abstract
This article specifically reviewed Arabic learning in the Dayah Jeumala Amal Curriculum. The review based on the Arabic Language Curriculum Model and Principle as stated by Moh. Taufiqurrahman and Muhammad Ikrom Karyodiputro in Islamic Academika published in 2019. Researchers see this concept is quite significant to see various sharp and measurable reviews of language learning, especially Arabic. Furthermore, the curriculum is reviewed by looking at the philosophical foundation, psychological foundation, sociological foundation, organizational foundation and linguistic foundation. Furthermore, this study sees the relevance, efficiency, effectiveness and worthiness of Arabic learning in this curriculum. Researchers use qualitative methods to understand various phenomena that occur in the field related to the object of study and study related documents. The research was conducted in Dayah Jeumala Amal by involving related figures and teachers, especially the curriculum drafting team and Arabic Language Teachers Institution to obtain objective data.
References
Hamalik, Oemar. 2007. Dasar-Dasar Pengembangan Kurikulum. Bandung: Remaja Rosdakarya.
Hasibuan, Lias. 2010. Kurikulum dan Pemikiran Pendidikan. Jakarta: Gaung Persada.
Hayati, Amal, Azhar M. Nur, dan Syarifah Dahlia. "Pengaruh Hidden Curriculum terhadap Pembinaan Karakter Religius Peserta Didik di Dayah Jeumala Amal Pidie Jaya dan Dayah Al-Furqan Pidie". Jurnal Tadabbur: Jurnal Peradaban Islam, Vol.3, No.2, 2021.
Irsyad, Muhammad. "Pengembangan Kurikulum Pendidikan Agama Islam di Madrasah (Studi Atas Pemikiran Muhaimin)". Jurnal Iqra' Vol. 2, No. 1, November 2016.
Kurikulum Dayah Jeumala Amal. 2021. Pidie Jaya: Dayah Jeumala Amal.
Muhaimin. 2012. Pengembangan Kurikulum Pendidikan Agama Islam di Sekolah, cet. Ke-5. Jakarta: PT. Raja Grafindo Persada.
Nurhadi. "Analisis Kritis Konsep Kurikulum Pendidikan Islam Indonesia di Sekolah". Jurnal El-Bidayah, Vol.1, No.1, Maret 2019.
R. Ibrahim, dkk. 2018. Kurikulum dan Pembelajaran. Depok: Rajawali Press.
Rusman. 2009. Manajemen Kurikulum. Jakarta: Raja Grapindo Persada.
Sukmadinata, Nana Syaodih dan Erlina Syaudih. 2012. Kurikulum dan Pembelajaran Kompetensi. Bandung: Refika Aditama.
Tafsir, Ahmad. 2010. Ilmu Pendidikan Islam dalam Perspektif Islam. Bandung: Remaja Rosda Karya.
Taufik. 2016. Pembelajaran Bahasa Arab MI. Surabaya: UIN Sunan Ampel Press.
Taufiqurrahman, Moh. dan Muhammad Ikrom Karyodiputro. 2019. "Model dan Prinsip Pengembangan Kurikulum Bahasa Arab". Islamic Akademika: Jurnal Pendidikan & Keislaman, Vol. 6, No. 1.
Tim LSAMA. 2016. 30 Tahun Dayah Jeumala Amal: Sebuah Usaha Peningkatan Kualitas Anak Bangsa. Pidie Jaya: Yayasan Teuku Laksamana Haji Ibrahim Dayah Jeumala Amal.
Yunus, Fathi Ali dan Muhammad 'Abdurrauf al-Syeikh. 2003. Al-Marja' fi Ta'lim al-Lughah al-'Arabiyyah li al-Ajanib. Kairo: Maktabah Kairo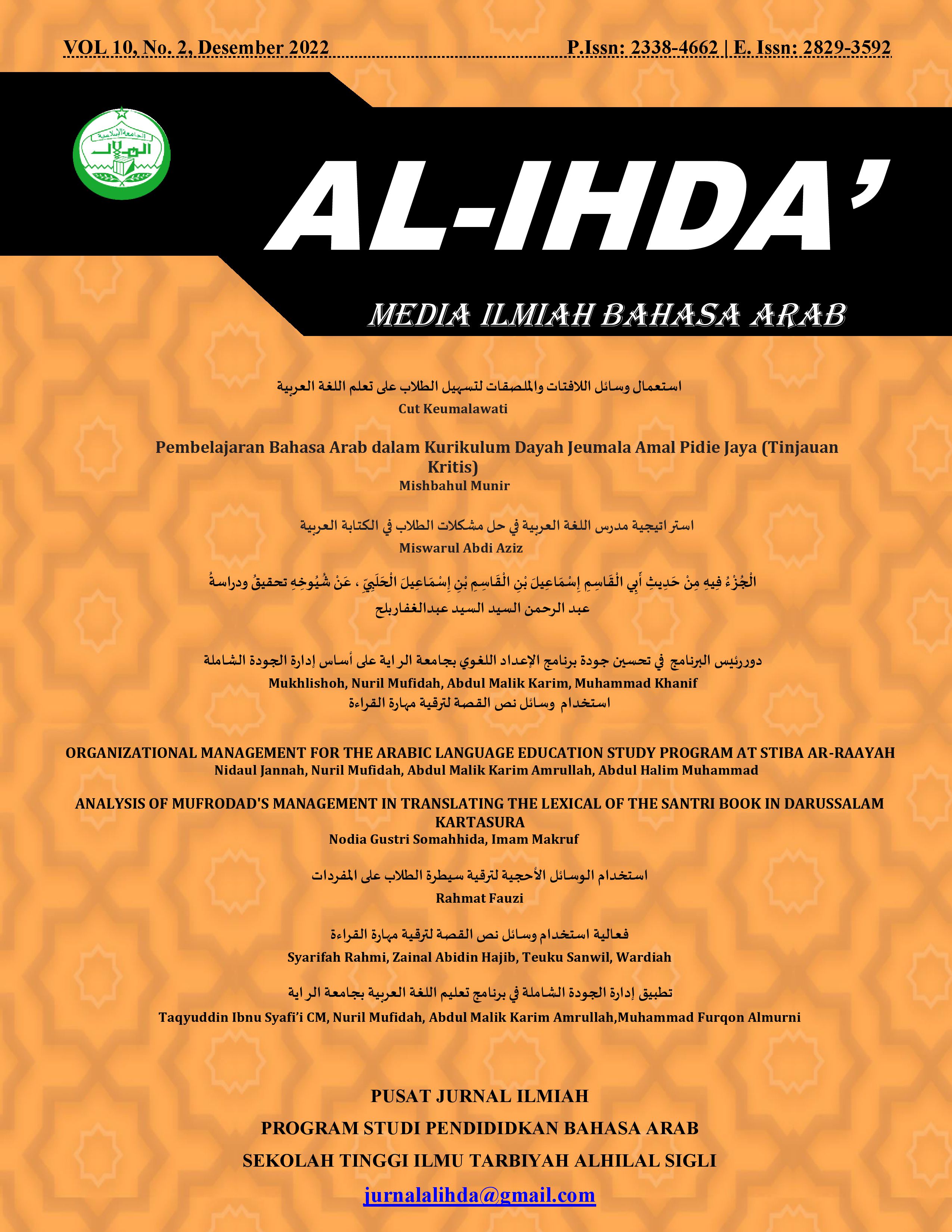 Downloads
How to Cite
Munir, M. . (2022). Pembelajaran Bahasa Arab dalam Kurikulum Dayah Jeumala Amal Pidie Jaya : (Tinjauan Kritis). JURNAL AL-IHDA : Media Ilmiah Bahasa Arab, 10(2), 16–30. https://doi.org/10.58645/alihda.v10i2.242
License
Copyright (c) 2022 Mishbahul Munir
This work is licensed under a Creative Commons Attribution 4.0 International License.