ANALYSIS OF MUFRODAD'S MANAGEMENT IN TRANSLATING THE LEXICAL OF THE SANTRI BOOK IN DARUSSALAM KARTASURA
Keywords:
Vocabulary, Translating, Lexical
Abstract
This article aims to analyze vocabulary mastery in translating lexical to determine students' vocabulary mastery in translating books. Arabic has a wealth of vocabulary so that the vocabulary is often different but the meaning is the same in Indonesian. In translating a book, a translator must master several elements related to Arabic translation. Errors in translating will have fatal consequences for the content of the text and others who understand it. This is the cause of the importance of mastering vocabulary in translating lexical books. The boarding house has its own unique method of learning. Translating lexical is one of its own characteristics in the dormitory. The research method used is descriptive qualitative, the object of research is the students of the Ula and Ulya levels which are the second and third levels of the 4 levels of learning at this Islamic boarding school. while the data collection techniques by observation, questionnaires and interviews. The results of the study showed that the mastery of vocabulary in translating lexical was assisted by the students' notes during the learning process. Students write translations of meaning into their respective books. So students can reopen when they forget. Memorization of vocabulary will make it easier in the future and can also increase vocabulary, but the frequency of finding the vocabulary when learning a student will indirectly memorize it by itself
References
A, J. F. R., & Saputro, D. (2021). ATHLA : Journal of Arabic Teaching , Linguistic And Literature Students ' Response Toward Online Arabic Lenguage Learning in Madrasah Tsanawiyah Negeri Surakarta 1 / Respon Siswa Terhadap Pembelajaran Bahasa Arab daring di Madrasah Tsanawiyah Negeri. Pendidikan, 2(1), 83–92.
Abid, P. M. (2019). Pengembangan Metode Bandongan dalam Kajian Kitab Kuning di Pesantren Attarbiyah Guluk-Guluk dalam. Nidhomul Haq Jurnal Manajemen Islam, 4(1), 70–89. https://doi.org/10.31538/ndh.v4i1.233
Ariyanti, M. L. (2019). HUBUNGAN KOMPETENSI PENERJEMAH DAN KUALITAS TERJEMAHAN. Jurnal Ilmiah Bina Bahasa, 12(1)(Vol 12 No 1 (2019): Jurnal Ilmiah Bina Bahasa), 21–30. https://doi.org/10.33557/binabahasa.v12i1.206
Asnawir, M. Y. (2020). ANALISIS KESULITAN MENERJEMAH BAHASA ARAB PADA MATA KULIAH MAHARAH AL-QIRAAH PROGRAM STUDI PENDIDIKAN BAHASA ARAB IAIN PAREPARE.
Cahyaningrum, I. O. (2013). Analisis Teknik Dan Kualitas Terjemahan Kalimat Tanya pada Subtitle Film Sherlock Holmes.
Inayah, I. N. (2019). KORELASI PENGUASAAN MUFRADAT DENGAN MOTIVASI KEGIATAN MUH}A
Irhami. (2017). MAKNA TERJEMAHAN JENGGOTAN (TJ) DALAM KONTEKS METODE PEMBELAJARAN BAHASA. Prosiding Konferensi Nasional Bahasa Arab, 3, 24–37.
Kamal, F. (2020). MODEL PEMBELAJARAN SOROGAN DAN BANDONGAN DALAM TRADISI PONDOK PESANTREN. Paramurobi, 3, 15–26.
Kuspiyah, H. R., & Fitriyah, L. (2020). PENGEMBANGAN BAHAN AJAR PEMBELAJARAN MEMBACA PEMAHAMAN LITERAL BERBASIS LITERASI KITAB KUNING MAHASISWA PROGRAM STUDI PBSI STKIP NURUL HUDA SUKARAJA. GERAM (GERAKAN AKTIF MENULIS), 8, 33–40.
Mahfudh, A. A., & Mustofa, H. (2019). Klasifikasi Pemahaman Santri Dalam Pembelajaran Kitab Kuning Menggunakan Algoritma Naive Bayes Berbasis Forward Selection. Walisongo Journal of Information Technology, 1, 101–110. https://doi.org/10.21580/wjit.2019.1.2.4529
Majid, A. H. (2017). Studi tentang mutu terjemahan dan implikasinya terhadap pengajaran menerjemah. Jurnal Dedikasi Pendidikan, 1, 45–51.
Rohmah, A. (2018). Aplikasi Metode Penerjemahan dalam Pembelajaran Kitab Kuning. Jurnal Ilmiah Multi Sciences, 10(2), 92–98. https://doi.org/10.30599/jti.v10i2.324
Said, A. B. U. (2019). MENGGUNAKAN KITAB AL-JURUMIYAH JAWAN FAKULTAS TARBIYAH DAN ILMU KEGURUAN INSTITUT AGAMA ISLAM NEGERI ( IAIN ) PURWOKERTO.
Shalihah, S. (2017). Terjemah Bahasa Arab Antara Teori dan Praktik. 12(2).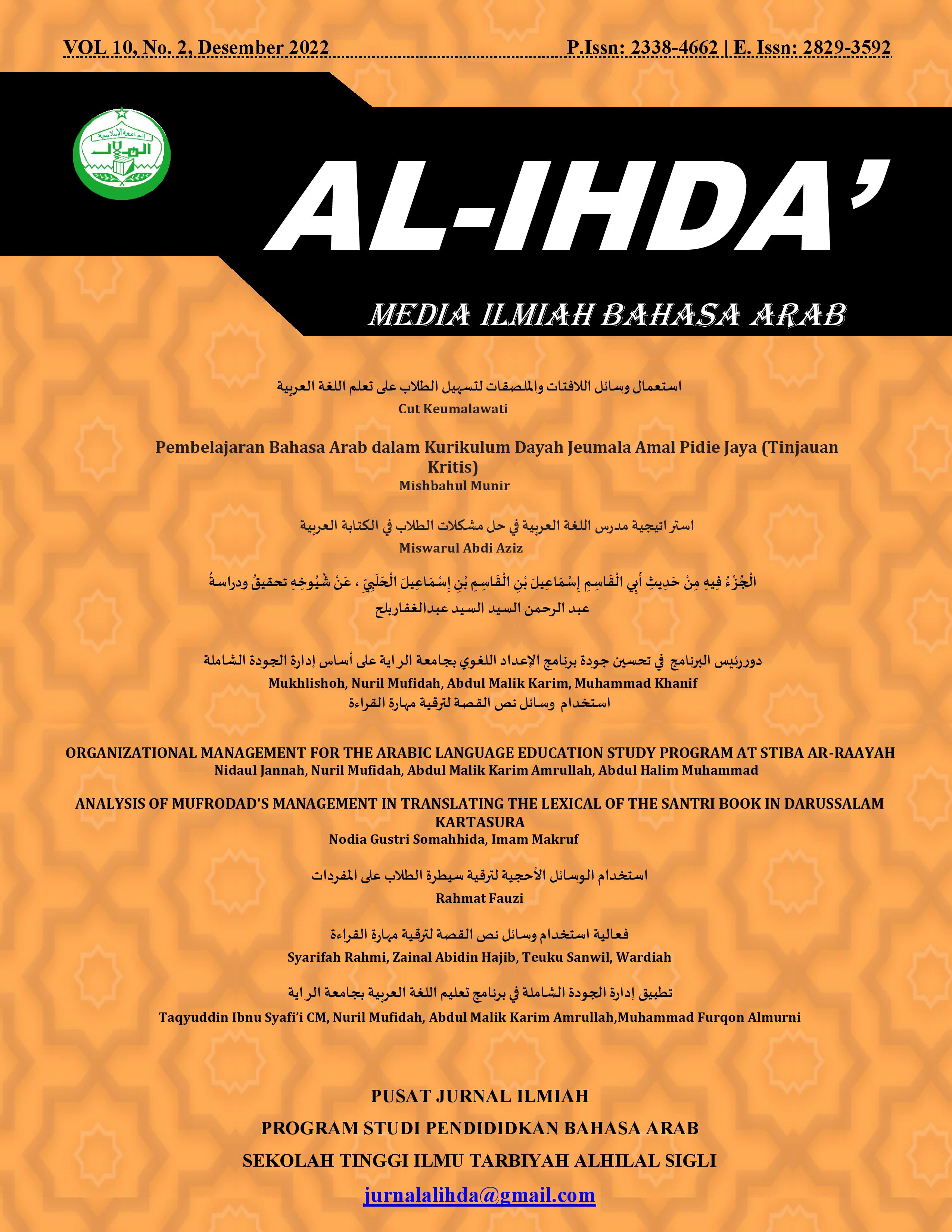 Downloads
How to Cite
Nodia Gustri Somahhida, & Imam Makruf. (2022). ANALYSIS OF MUFRODAD'S MANAGEMENT IN TRANSLATING THE LEXICAL OF THE SANTRI BOOK IN DARUSSALAM KARTASURA . JURNAL AL-IHDA : Media Ilmiah Bahasa Arab, 10(2), 94–105. https://doi.org/10.58645/alihda.v10i2.247
License
Copyright (c) 2022 Nodia Gustri Somahhida, Imam Makruf
This work is licensed under a Creative Commons Attribution 4.0 International License.