ANALISIS KESALAHAN KONSEP MAHASISWA PADA PERKULIAHAN KONSEP DASAR MATEMATIKA
Keywords:
Conceptual Errors, Basic Mathematics Concepts, PGMI Students
Abstract
This study analyzes conceptual errors in the Basic Concepts of Mathematics course by STIT Al-Hilal Sigli students in the PGMI study program. The purpose of this study was to determine the mathematical concept errors that occurred during lectures. The samples in this study were students of the third semester of PGMI study program who were taking the basic concepts of mathematics course, totaling 73 students consisting of unit I, unit II, and unit III. Data collection techniques are carried out by monitoring each answer from exercises, quizzes, assignments, and student UTS answers. The data analysis technique was carried out by descriptive analysis of students' misconceptions about mathematical concepts. The results of the study found several conceptual errors that occurred, including: (1) conceptual errors in arithmetic operations involving negative numbers, (2) conceptual errors in fractional operations, (3) algebraic concept errors, especially those involving one or two variables, and (4 ) does not complete the units for area and length.
References
Auliya, R.N. 2013. Pengaruh Model Pembelajaran Kooperatif Tipe CRH (Course, Review, Hurray) Terhadap Kemampuan Pemahaman Matematis dan Kecemasan Matematika Siswa SMP. Tesis. SPs UPI Bandung: tidak diterbitkan.
Depdiknas. 2006. Peraturan Pemerintah Nomor 19 Tahun 2005 tentang Standar Nasional Pendidikan. Jakarta: Departemen Pendidikan.
Hudoyo. 1979. Pengembangan Kurikulum Matematika dan Pelaksanaannya di Depan Kelas. Jakarta: Depdikbud.
Johnson, dkk. 2001. Developing Conceptual Understanding and procedural skill in Mathematic: An Iterative Process. Journal of Educational Psychology, Vol. 93, No. 2
Lindawati, S. 2010. Pembelajaran Matematis dengan Pendekatan Inkuri Terbimbing untuk Meningkatkan Kemampuan Pemahaman dan Komunikasi Matematis Siswa Sekolah Menengah Pertama. Tesis. SPs UPI Bandung: tidak diterbitkan
Stylianides, A.J, & Stylianides, G.J. 2007. Learning Mathematics with Understanding: A Critical Consideration of the Learning Principle in the Principles and Standards for School Mathematics. The Mathematics Enthusiast. Vol 4. No. 1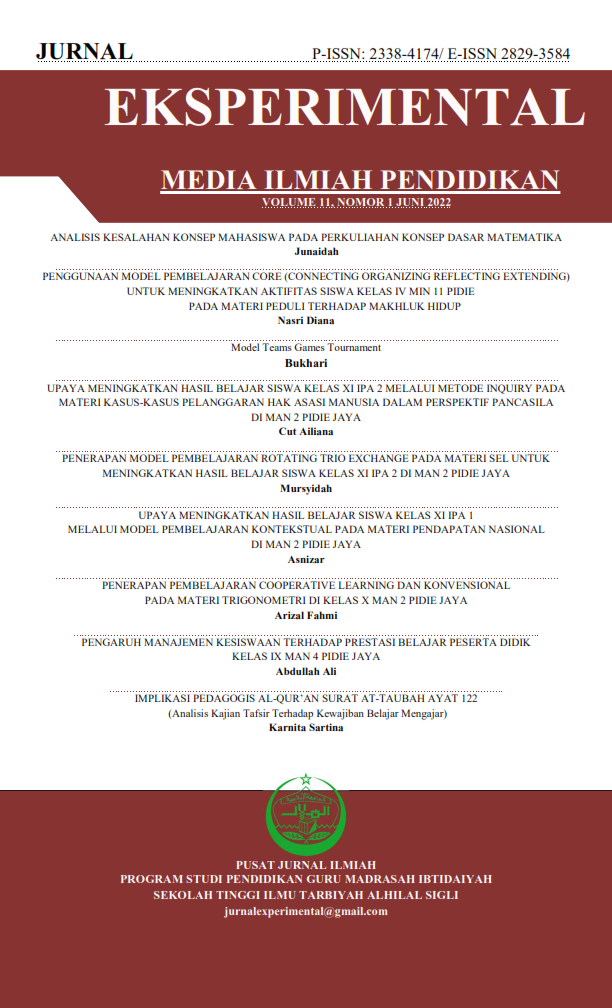 Downloads
License
Copyright (c) 2022 Junaidah
This work is licensed under a Creative Commons Attribution 4.0 International License.