PENGARUH MOTIVASI KERJA KEPALA SEKOLAH TERHADAP KEPUASAN KERJA GURU DI SMA NEGERI 1 MUTIARA
Keywords:
Work Motivation, Principal, Performance, Job Satisfaction and Teachers
Abstract
this study aims to determine the effect of work motivation principal on teacher job satisfaction together at SMA Negeri 1 Mutiara. This research uses a quantitative approach with associative methods. The analysis technique data used is simple and multiple linear regression analysis, T test and F test. The results showed that: There is a significant influence between the principal's work motivation on teacher job satisfaction by 79.1%. This means that work motivation will affect the job satisfaction of teachers in schools for the achievement of maximum performance; This means that the variable work motivation go hand in hand with teacher job satisfaction, meaning that the better the work motivation, the higher the teacher's job satisfaction. The principal's work motivation has a positive effect on teacher job satisfaction. It is appropriate for teachers to get things that can raise their enthusiasm in carrying out their duties, because a teacher will produce better performance if they have good work competencies and get sufficient work motivation
References
Diyanti, Hubeis dan Affandi. 2017. Pengaruh Motivasi Kerja dan Iklim Kerja terhadap Kepuasan Kerja dan Implikasinya Terhadap Kinerja Tenaga Kependidikan Institut Pertanian Bogor. Volume 3 Nomor 3. https://doi.org/10.17358/
Hamalik, Oemar. 2014. Proses Belajar Mengajar. Jakarta: Bumi Aksara
Mardalis. 2014. Metode Penelitian Suatu Pendekatan Proposal. Jakarta: Bumi Aksara
Robbins,Stephen P & Judge,Timothy A. (2013). Organizational Behavior Edition 15. New Jersey: Pearson Education
Subagia, Divayana dan Yudayana. 2019. Kontribusi Supervisi Klinis Kepala Sekolah, Motivasi Kerja, Iklim Kerja Dan Tunjangan Profesi Terhadap Kepuasan Kerja Guru TK di Kecamatan Kuta Utara. Volume 10, Nomor 2. https://doi.org/10.23887/japi.v10i2.2796
Sugiyono. 2013. Metode Penelitian Kuantitatif, kualitatif dan kombinasi (Mixed Method).
Bandung: Alfabeta
Sugiyono. 2015. Cara Mudah Menyusun Skripsi, Tesis, dan Disertasi. Bandung: Alfabeta.
Supardi. 2016. Kinerja Guru. Jakarta: PT. Raja Grafindo Persada
Susanto, Ahmad. 2016. Teori Belajar dan Pembelajaran. Jakarta: Prenada Media Group
Tentama, F. 2015 Peran Kepuasan Kerja terhadap Kinerja pada Guru Pegawai Negeri Sipil (PNS) di Yogyakarta. Jurnal Psikologi UNDIP. Vol. 14. No. 1: hlm.1-8
Uno, Hamzah dan Lamatenggo, Nina. 2016. Tugas Guru dalam Pembelajaran: Aspek yang Memengaruhi. Jakarta: Bumi Aksara
Wahyudi. 2015. Kepemimpinan Kepala Sekolah dalam Organisasi Pembelajaran. Bandung: Alfabeta
Wardhani, EW dan Soetomo, WE. 2017. Pengaruh Kepemimpinan Kepala Sekolah dan Motivasi Kerja terhadap Kinerja Guru dengan Kepuasan Kerja Guru sebagai Variabel Mediasi di SMA Negeri 11 Semarang. Volume 2, Nomor 2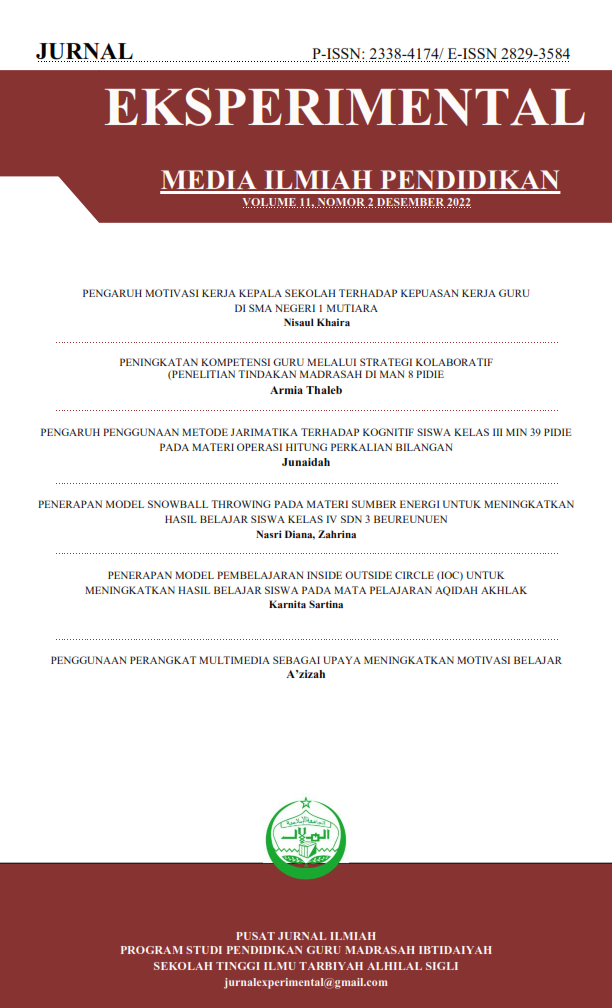 Downloads
License
Copyright (c) 2022 Nisaul Khaira
This work is licensed under a Creative Commons Attribution 4.0 International License.